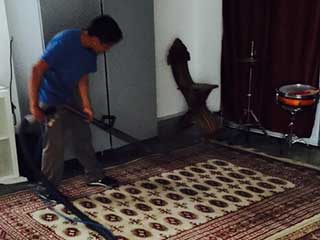 You may purchase tens of different furniture and objects for your house, but your beautiful home will acquire a unique personality the minute you cover its floors with fascinating carpets. Each rug, regardless of its size or price, carries a history and a tradition that goes back ages and, literally, this long historical background can transform your place into a small palace. Of course, rugs are necessary for the proper insulation and the warming up of the house or office, but most people, usually, admire the beauty of their motifs, designs and colors and enjoy the cosy atmosphere they create.
We, at Rug Cleaning Malibu, love all kinds of carpets, respect their origins and we know that they might be part of your family's legacy and, therefore, we take extra care of them. The biggest blessing of Malibu is the ocean and the open horizon that most people face from within their houses since most of them are built at the waterfront. There are plenty of older buildings in the city, which apart from their special architectural characteristics, hide beautiful rugs that have been passed from one generation to the other.
In contrast of the common belief, carpets are not alike and the simple cleaning with a vacuum cleaner will not be sufficient for the complete removal of the dust and the microorganisms that nestle among the fibers. Think of how many dirty things carpets come in contact daily: mud from the shoes, dirt from pets, food remaining, liquid spots, hair from our cat, crayons from our children, moisture or sun exposure and much more.
Actually, rugs are completely different between them. There are the oriental rugs with the beautiful handmade colors, which need to be cleaned with special detergents to be maintained intact; the silk rugs, which are extremely sensitive and require special handling when cleaned; as well as thousand other handmade carpets from Persia, Greece, Turkey, India, Pakistan or Afghanistan, which are handmade according to local traditions and by different materials that must be maintained properly in order to keep the colors bright and the fibers soft and resistant to time. This is why our Rug Cleaning Company in Malibu treats each rug differently; in fact, rug cleaning demands special knowledge and specific products to be effective.
Residential Rug Cleaning
Rug Cleaning Malibu undertakes both commercial rug cleaning and residential rug cleaning with the same care and regardless of the quantity and quality of your rugs. From flokati rug cleaning to wall to wall carpets, our company will remove permanently the stains, the germs, the dust and the harmful microorganisms and will refresh your rugs as if they were new.
Each rug is, actually, a live diary since it keeps most of the families' activities. It is related with memories, special moments, and family traditions and accepts without complaints the daily harassment. The least that we can do is provide excellent cleaning services, so that the following generations would have the pleasure to enjoy their bright colors and warmth as well.